THERMOMETERS TYPE K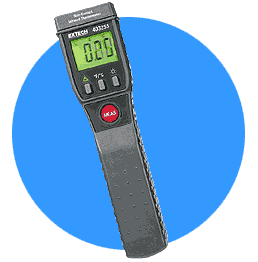 With single or dual input direct or differential measurements to 0.1°
FEATURES
Rugged design for field use - includes rubber holster.
Dual input model provides differential readings.
Accurate to 0.3%, °C/°F switchable.
Front panel offset adjustment to optimize accuracy.
Displays Maximum reading plus Data Hold on large LCD
display.
Includes 9V battery, holster with stand, wrist strap and temperature probe.
ACCESSORIES
Temperature probes (excluding bead wire) include handle, 3 1/2" stainless tube, and 39
cable.
SPECIFICATIONS
Ranges:
-50 to 1300°C
-58 to 2000°F
Accuracy:
(0.3% rdg+1°C);
1000°C (0.5%)
(0.3% rdg+2°F)
Resolution: 0.1° or 1°
Dimensions: 6.5 x 3.0 x 1.7" (165 x 76 x 43mm including holster)
Weight: 14.2 oz. (403g)
THERMOMETER ORDERING INFORMATION

CAT. NO.
DESCRIPTION
V421305
Heavy Duty Thermometer, Single Input
V421307
Heavy Duty Thermometer, Dual Input
V403250
Non-contact IR Thermo ProbeMeter™ °F
Fluke 52
Thermometer, Dual Input