OPHIR METER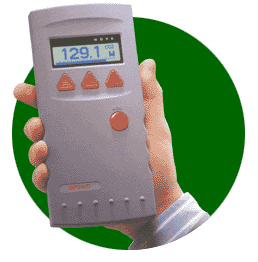 The Ophir NOVA - One Handheld Display for All Your Needs
Compatible with the complete range of Ophir Thermopile (power & energy), Pyroelectric & Photodiode Heads, Nova is truly versatile: measuring from nW to Kw, uJ to 200J. Accessory plugs are also available to convert your Nova into a volt meter or temperature probe.
FEATURES
| | |
| --- | --- |
| | Digital, hand held |
| | Easy to use soft keys, menu driven |
| | Screen graphics |
| | Backlight & rechargeable battery |
| | Analog output |
| | RS232 optional |
| | Compatible with all Ophir thermopile (power and energy), pyroelectric & Photodiode heads |
| | EMI rejection |
| | All Ophir instruments have NIST traceable calibration |
Thermopile CW Detector Heads
Ophir thermopile surface absorber heads are spectrally flat from .19µm Ð 20µm. They have a damage threshold of up to 20 kW/cm2. They offer a wide dynamic range from µW to kW and a fast response time as short as 1 second. The detector head information is stored in the EEROM of the detector head and is downloaded when the display is turned on so all heads are plug and play.
The PE Series pyroelectric detectors combine high accuracy, high damage threshold and high repetition rate operation in a single head. For the first time you can measure both long pulses up to 3mS and have a high repetition rate up to 1KHz in the same detector head. The pulsed detectors also provide sensitivity down to 1 nJ.
OPHIR DETECTORS MEDICAL APPLICATIONS
SURGICAL APPLICATIONS:
F150A
Co2 Lasers up to 150 watts
Yag Lasers up to 150 watts
KTP Yags Lasers
Holmium Lasers (need to fill aperture)
Diode Lasers
150C-LSC
Inside cavity of Laserscope lasers
OPHTHALMICS APPLICATIONS:
3A-P
Yag, Argon*, Kryton* (3 watts or less)
10A
Argon (up to 10 watts)
PE6088
Excimer lasers
*(customer will be required to identify wavelength at which he is operating to insure best fit)
DERMATOLOGY APPLICATIONS:
30(150)A-HE1
Alexandrite & Ruby Lasers including Erbium.
30(150)A-HE
Yag and Erbium lasers
Note: Medical sites with lasers not identified on this list should contact Netech Corporation. (800) 547-6557.
OPHIR ORDERING INFORMATION

CAT. NO.
DESCRIPTION
V1Z01500
Nova Meter
V1Z02163
F150A Detector Head
V17327
150C-LSC
V1Z02155
3A-P Detector Head
V1Z02148
10A Detector Head
V1Z02172
PE6088 Detector Head
V1Z02382
30(150)A-HE1 Detector Head
V1Z02380
30(150)A-HE Detector Head