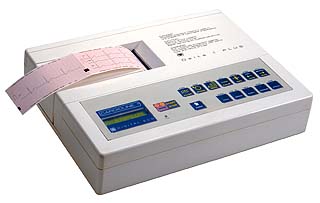 The Delta 1 Plus Base Version is a digital portable electrocardiograph (ECG) that offers simultaneous and real time acquisition of the 12 ECG leads. While the Delta 1 Plus Base Version is our most economical unit, it's packed with clinically valuable features you just won't find in other comparably priced ECGs

It's high-resolution thermal printer (8dots/mm) prints clear, crisp ECG tracings in a 3 channel (AUTO 2 Mode-simultaneous) or a single channel (AUTO 1 Mode-real time) format on 60mm (~2.5") wide thermal paper (roll or z-fold).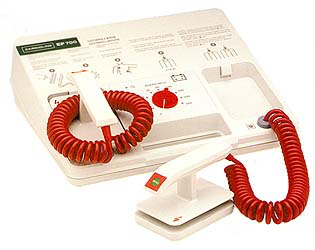 The EP700 is a compact portable defibrillator designed for cardiac emergencies. It is ideally suited for Stress/Exercise Testing applications since it is a basic non-synchronized AC/DC rechargeable defibrillator that is quick and easy to use.

Key features include:
- time saving operation, safe handling
- easy operating instructions on the control panel
- 11 energy levels up to 360 J
- acoustic and visual indication of use readiness
- electronic safety lock to prevent uncontrolled or premature discharges
- automatic discharge of stored or unused energy
- coil wire electrode leads with wide field of action
- protected against humidity and rain for safe transportation
- small and easy to carry, weighs 5.8 Kg. (13 Lbs).